Personal Watercraft Training for Superyachts

How do you become an RYA PWC (jetski) Instructor?
Hold the RYA PWC Proficiency Certificate (1 day)
Hold a valid First aid Certificate
Be a competent PWC rider
Attend the 3 day RYA PWC instructor course (or 1 day conversion if you are already a Powerboat instructor)
RYA Membership (join here)
Why train with us? Onboard or in the UK?
UK based SuperYacht PWC Training
We have the largest and newest fleet of PWC's available for training in the UK. This not only means you will be getting to use the most up to date kit on the market, but also it allows you the flexibility to put as many or as few of your crew through their training course as you wish. Unlike other centres who can only offer training for up to 6 students, we can offer training for up to 16 students! However, you will still have quality and a personalised service as we will never exceed the a 1:6 trainer: student ratio. 
In addition, we are located a stone's throw from Bournemouth International Airport and are approximately 1 hour from Southampton International Airport - both gateways from the most popular Superyacht ports in Europe such as Antibes and Palma. 
We provide all the kit: Jetskis, wetsuits, Buoyancy aids etc - so all you have to do is turn up!
RYA Training Onboard your Superyacht
We appreciate that spending time away from the Yacht for Training can be difficult. Therefore we can provide RYA PWC Instructor Training from your yacht or location for up to 6 people. This enables senior crew to take the training and effectively supervise junior staff who are more likely to be operationally involved with the PWCs. Click here for further information about onboard Training.
Course duration:
1 day - RYA PWC Proficiency Course
3 days - RYA PWC Instructor Course
Total = 4 days
Course fees for Training from our UK Base:
1 day PWC Proficiency course & 3 day PWC Instructor course:
£645-00pp
3 Day Instructor Course (If PWC Competency Certificate already held)
£495-00pp
Do you have more than 1 crew member needing to be Trained?
Please contact our office for Multiple person discounts on 01202 706784 or email info@jetskisafaris.co.uk
Whats included?
RYA Personal Watercraft Handbook
RYA PWC competency certificate
Use of our wetsuits & buoyancy aids
Use of our Jetskis
Fuel
Your trainer (no more than a 6:1 Student:Trainer ratio)
Your end of course moderator
* A minimum of 3 people are required to run this course
The RYA Superyacht PWC safety course: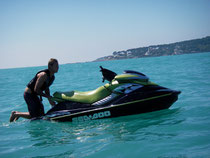 Once you have become an RYA PWC Instructor to run the RYA Introduction to Personal Watercraft Safety Course onboard your Superyacht you need to apply for RYA training centre recognition for your Superyacht. Details and information on how to apply for recognition, the process and whats involved can be found here.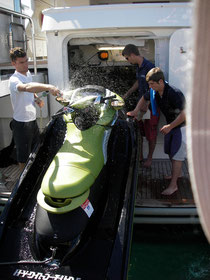 Minimum age: 12 Years
Minimum duration: 1 hour
Ability after course: Operate a PW in good conditions under supervision
Taught by: RYA PWC instructor
Instructor to student ratio: 1 instructor can supervise a maximum of 3 PWCs with up to 2 students on each craft. A safety boat or coaching craft may also be used as a teaching platform.
Course content:
Introduction to PW layout & controls
Propulsion & steering system
Personal safety equipment
Essential safety information
Collision avoidance
Practical control low and high speed
Re-boarding in deep water
Local hazards and regulations
Communication with the safety boat